I spent the day doing nothing.
(Oh, I'm sorry – maybe that should have been a tweet?)
I'm feeling these days that blogs are as dead as Flash, but recently I saw a tweet heralding the decline of Twitter. All things must pass, I guess.
But in the throes of my nothing-doing today, I spent a good amount of time practicing finger-pickin'. See, I never learned finger-style when I was growing up and spending all my free time jamming out to my Clapton, Hendrix, Who and Zappa records. (Yes, records.) I didn't invest any time in learning how to finger pick like James Taylor or Paul Simon or Leo Kottke or John Fahey or Jorma Kaukonen or… well the list goes on and on.
Note to the young: don't put off learning how to finger pick, just because you think it's hard. Or lame. Or "not your style". You'll thank me later. Um, unless you don't actually play guitar at all, in which case you won't. Thank me later, I mean.
Part of my problem I guess was not having a mentor or coach or someone to point me in the right direction. In the spirit of "it's never too late", I have undertaken to get at least some rudimentary chops together. It has been hard work, and my fossilized brain seems to work against me all the time. But here's a link to my virtual coach Mark Hanson, who stops through perennially to give a concert at TPCUU. He has totally got The Stuff, and he's written several books and produced several DVDs that will help you get on your way, too.
Because I think it might make a difference somehow, I wrote down a 6/8 pattern I was working on today – just so Mr. Grey Matter wouldn't forget. (But – will I remember to look HERE for it when I need this information next?)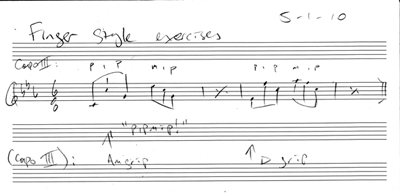 I confess – I have always had a problem with paper management. I still do. My apartment has little hoard stashes of piles of paper that need to be gone through and tossed into the recycle – or shredded before being tossed into the recycle. Well, maybe I'll shred a handful or two tomorrow – between guitar breaks – before I go back to work on Monday.
Feels good to have a day off.