Last night the lockdown lifted, and I decided it was time for a walk.
Jennifer had the car, and I was facing the task of getting from Somerville to Jamaica Plain in order to feed Penny. The T was stopped all day, and I had been quietly psyching myself in to the possibility of hoofing all 10 miles of the journey, planning my route to strategically avoid any lockdown hotspots.
At 6:15 in the evening, the Governor lifted the stay-inside order, and we were all free. Facebook lit up with folks appealing for company at their local watering holes. The T started running again. I thought to myself, well, if the suspect is still alive and uncaught, maybe he'll find a way out of this jam and go disappear in New York City where he can get lost in the crowds. I lightened up because it meant I could probably walk through Harvard Square unimpeded now. With the T running, I could walk for an hour, then grab a bus or a train.
The weather report had been calling for some form of rain for the last couple of days. I've learned to mistrust the actual timing of these predictions, the weather patterns here seem to twist and turn all the time. Unless a Nor'easter is bearing down on us like a Fung Wah bus afire, predictions of rain can rapidly become meaningless. Actual conditions were mid 60s, windy and sort of spitting mist and gusting 10-15 knows in my face. Just the thing to set the mood as the sun set and I headed towards Cambridge.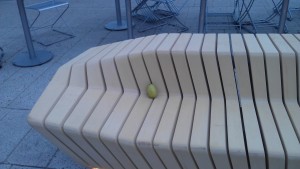 Harvard Square was trying to shake off the eeriness that had hung over it all day, but not succeeding. A few joints were open, but most eating and drinking establishments were closed. I saw an inkjet sign on one door: "This Building Is In Lock Down." Bartley's was dark, as was the Hong Kong. The few people I ran across were talking about the fugitive, checking their phones for information, looking for a place to grab a meal. I decided to roll the dice against the weather and keep going to Central Square.
I began to realize that I was hitting some familiar haunts on this extended stroll. I passed what until recently was Sandy's Music. It's now Monster Mike's guitars, I think, which is a good thing, sort of keeps the property in the family so to speak, having it remain an independent music store. I regret never having gone to one of Sandy's Monday night jams. We can't live forever, though, and Sandy's fighting some health issues they say, and can't keep the store. So, I touched the window and said a wish and kept moving.
There were plenty of people in Central, and I peeked in a few bar windows to see if there were any major developments in the Marathon Bomber manhunt. I rambled by a few classic creepy types that seem to hover in the corners of the bus stop, looking for a handout. Decided to keep going – I now wanted to cross the Mass Ave bridge on foot, and I felt like I had it in me.
More closed shops. The Middle East was dark – I wondered if I had ever seen it closed before. The All-Asia, seemed open, but maybe only for friends. Asgard was closed, and I has murky thoughts about all the fallen Vikings that were going to be turned away tonight. Trying to find a punch line, but not having any luck.
The MIT campus was very silent, and I moved through it respectfully. The wounds of the night before were still heavy in the air, though I did pass a dorm that was having a barbecue outdoors in its little quad. Must have been a lockdown lift party. The sun was down and night was falling.
I stopped on the Mass Ave bridge – which incidentally is named the Harvard Bridge – and took some pictures of Boston with my phone. As I started walking again, a caravan of humvees shot past me, heading in to Boston. I had seen a number of cops cars speeding towards Watertown on Storrow Drive, so it wasn't surprising to see the caravan turn right on Beacon Street on the other end of the bridge.
By now I had firmly decided that my mission was to visit a few old haunts, like a runner tagging bases. I was also talking to Simone by this time. Walking at night and talking to dead relatives is something I have been doing all my life, it seems. That's one thing I talked to Simone about as I walked, what it felt like growing up in Ohio and talking to my Dad's ghost under the huge oak and chestnut trees after the sun had gone down.
I passed some more bars on the Boston side, joints that I knew by different names back then. TV sets were showing that law enforcement had located the suspect and the shrink-wrapped boat he had been hiding in. I knew the drama would come to an end before I got home.
At the Berklee College, I decided that I was still feeling too claustrophobic to be able to sit on the Orange Line or the 39 bus, so I headed to the Fens by way of a detour up Haviland Street. The weight of my long stay in Boston fell on me mightily as I passed the building where I first lived in a shared apartment, then by the remains of TC's Lounge, which was MY BAR for so many years. Without a doubt, TC's had the best jukebox in town, and I never left there without having downed multiple cheap beers. I looked inside the door, and it's had its guts ripped out, mostly. I got angry. Walking the rest of Haviland I got even angrier. When I first moved here, the apartments were filled with Berklee students blowing their horns and blasting their electric guitars and record players. Now the street is sterile and silent and clean and genteel. It makes me sad every time I pass by there now. The place has lost its character.
I paid my respects to the 1040 building, rounding another base. The Fens, Machine, Boylston Street where there used to be trashy rehearsal spaces – now it's all built up so that the richest of the gentry buying up condos can actually peer down into Fenway Park from the upper floors. My feet were getting tired, but I had now taken the turn in my path that would make it very difficult to hook up with public transportation for another few miles.
I took the Riverway path that goes along the Muddy River. It was very dark by then, and that path might be a good place to get mugged, because it's unlit. On the other hand, there are a number of spots where one can just jump off the path and be instantly back in well-lit civilization. It was the perfect place to talk to Simone some more. Eventually, the path leads to Beth Israel Deaconess and its brightly lit emergency room, a place that will always fill me with sadness. Today, it occurred to me that Dzhokhar Tsarnaev is probably in the same trauma ICU where Simone lay.
I made my way up the Jamaicaway on the dark bicycle path until I got to Jamaica Pond, another landmark, another haunt, where I learned to sail with my daughters lounging on the dingy with aggressive boredom – especially since we couldn't whistle the slightest breeze on those 90 degree days.
Boston has changed a lot over time, but so has Cleveland, New York City, Paris, everyplace in the world. It's never the same, and whether it was better or worse back then is not the point. Keep breathing, keep hoping, keep loving, that's the point. What lies ahead is there. Like walking a long distance, you will arrive at your destination after seeing all the sights along the way, carrying your past on your shoulders like a pair of invisible wings.
Made it home, safe.